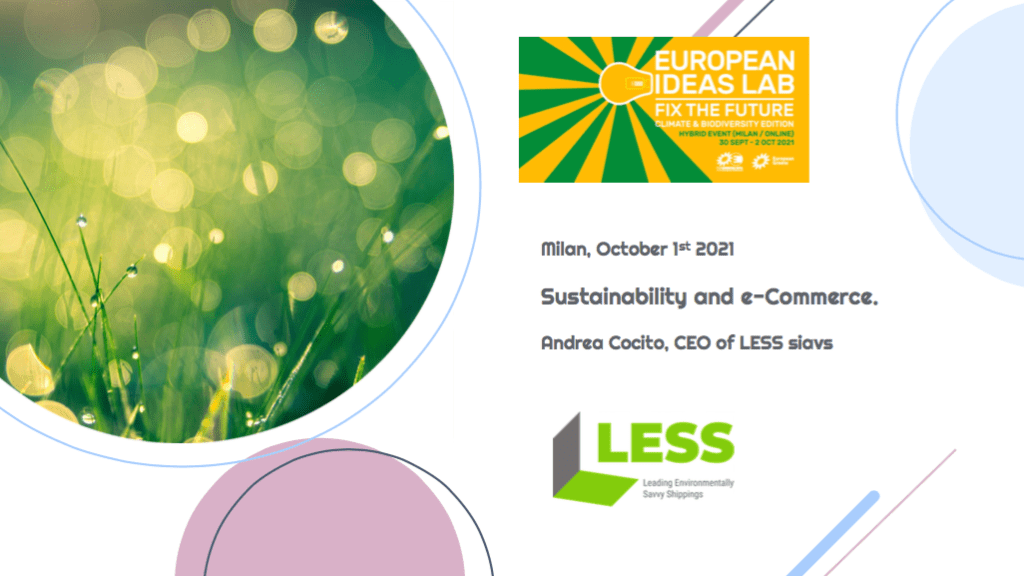 LESS stops, LESS miles, LESS vans, leading to LESS pollution, LESS traffic, LESS carbon and LESS costs
Andrea Cocito CEO e Co-founder di LESS.green ha partecipato, in qualità di relatore, ad uno dei più importanti eventi al livello Europeo dedicato al Clima e alla Biodiversità "CLIMATE ACTION for the people & the planet" promosso da European Greens.
Responsabili del cambiamento, attivisti, organizzazioni civili, innovatori, scienziati riuniti con un unico obbiettivo condiviso, si confrontano, discutono e portano il loro apporto per il cambiamento in positivo del nostro pianeta.
Grazie all'European Ideas Lab i decisori politici possono così attingere a informazioni, analisi, progetti e trovare molteplici soluzioni ai problemi più urgenti in tema di Clima e Biodiversità.
La crisi climatica continua ad intensificarsi e aumentano anche le aspettative di risoluzione da parte di cittadini, della società e dei governi in tutto il mondo. Cresce la consapevolezza e la richiesta di un vero cambiamento da parte delle persone.
La comunità europea ha un grande focus oggi su questo argomento e tanto sarà necessario fare per garantire una transizione giusta e sostenibile.
Le attività che verranno svolte devono soddisfare tutti gli obiettivi di sostenibilità, clima e proteggere le risorse naturali e la biodiversità.
Andrea Cocito ha portato, in questo grande Laboratorio di Idee, il contributo oggettivo di LESS, spiegando i progetti avviati con particolare focus sul nuovo paradigma dei PUDO disintermediati.