We are changing the last mile paradigm to achieve
Zero Environmental Impact
The only Italian Start up selected from "Green Last Mile Report 2022"
LESS is a social impact tech startup (Startup Innovativa a Vocazione Sociale or SIAVS) which develops new technologies, solutions, and tools to redefine how last mile delivery works for express couriers with the goal of zero impact
The mission of LESS is to slash the environmental impact of express transport in last mile deliveries to B2C users.
How to participate in Less:
Equity investment: Commit to investment and participate to the social governance:
• Impact Investors
• Business Angels
• Philantropic Funds
Logistics Companies, CEP: Channel volumes of stuff to deliver to the PUDO and Microdelivery network. Integrate or extend existing networks
OEM Network Partners: Other player wanting to startup a new network, at a local or national level, interconnected with the other networks
Investment status min.0 ______________________________________current 300.000
_______________________________________________________________ target 1.500.000
Project
The Problem
The Answer
Use of funds
Team
Round
Documents
Project
Conceived in 2019, LESS was born from an encounter of three skilled creators and founders: Fabio Pietrosanti, Andrea Cocito, and Elma Pietrosanti.
LESS is an innovative start-up with a social vocation – a non-profit initiative with communities' best interest at its heart: to change the rules for the right to transparency on the environmental impact of e-commerce and transport.
LESS intends to produce a long-term social impact with permanent results, which begin with analysis, change in processes, and micro-delivery, then in the economic system of distribution with PUDO collection points, and finally, a change in the behavior of the recipients by helping them become aware of the opportunity to contribute to the vision: reduce the environmental impact generated in the last mile of transport reaching private consumers" (B2C: business to consumer).
LESS' primary objective is to demonstrate to the recipients the effect of their choices in terms of CO2 saved with concrete and measurable outcomes.
"LESS stops", "LESS miles", "LESS vans", "leading to LESS pollution", "LESS traffic", "LESS carbon", "LESS costs.
---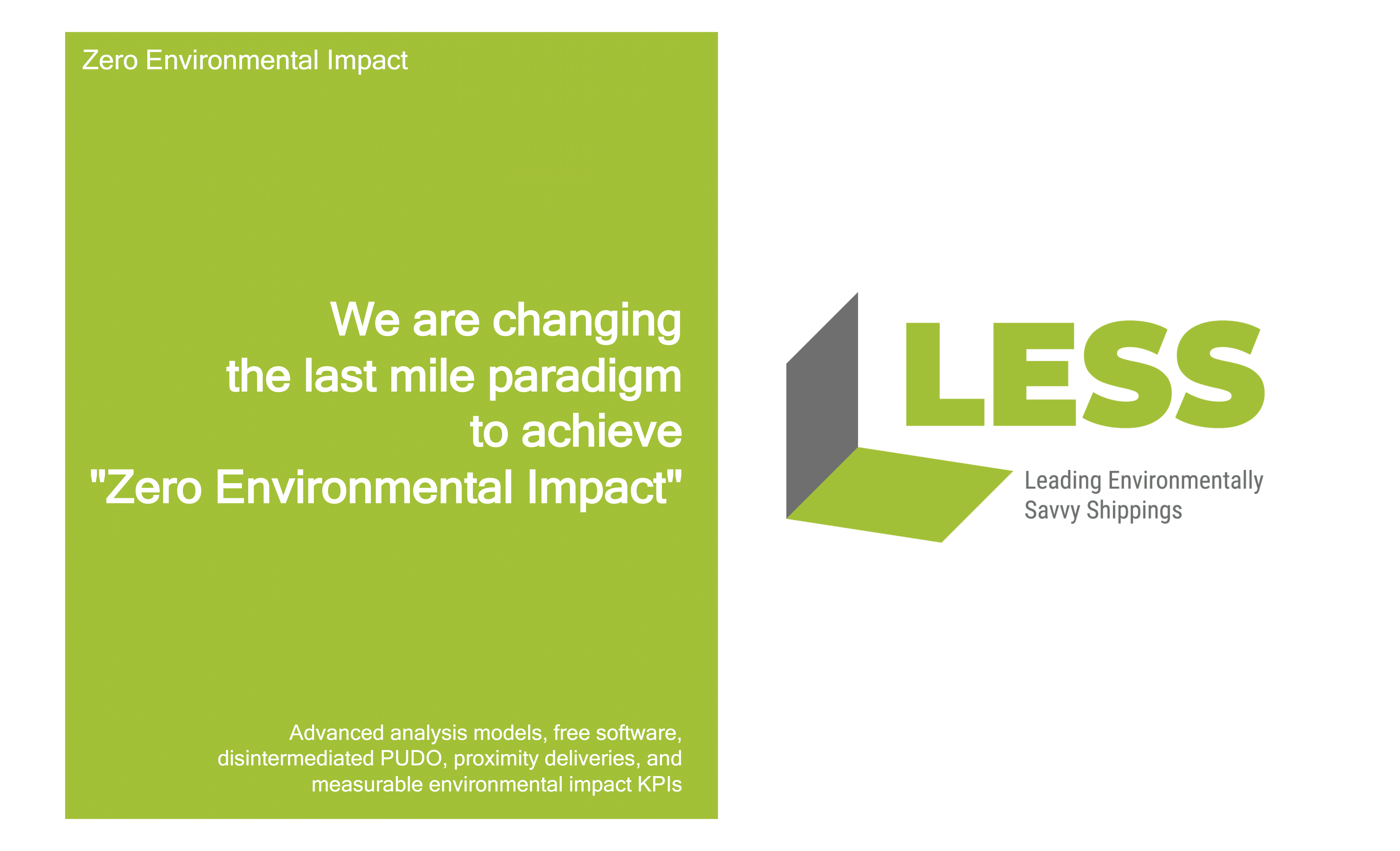 The Problem
The Answer
Use of funds
Team
Round
Documents
We are changing the last mile paradigm to achieve
Zero Environmental Impact
The information on the offer is not subject to approval by Consob. The Offering company is solely responsible for the completeness and truthfulness of the data and information provided by the latter. The investor's attention is also drawn to the fact that the investment, even indirect, through OICR or companies that invest mainly in financial instruments issued by innovative startups and SMEs is illiquid and characterised by a very high risk.